Suitable for all skin types
Minimal to no pain, downtime, or side effects
Fully customizable treatment protocols
Promote skin cell regeneration
Hydrate the skin and increase its resilience
Smooth away fine lines, folds, and wrinkles
Correct age-related volume loss
Improve the appearance of acne scars and other types of scars
Plump thin lips and enhance facial contours
Real, noticeable results that last
* Treatment results may vary from person to person.
What Are Hyaluronic Acid-Based Fillers?
Hyaluronic acid-based fillers are cosmetic injectables that soften fine lines and wrinkles and combat age-related volume loss. They are used to treat smile lines, corner lines, lip lines, and forehead lines, plump thin lips, improve the appearance of scars, lift sagging skin, and restore lost volume in the back of the hands. The dramatic results can last 6-18 months, with periodic touch-ups required to maintain your youthful appearance.

The Juvéderm Family of Fillers
The Juvéderm family of fillers by Allergan is used to smooth out mild to moderate lines, folds, and wrinkles, plump areas of volume loss, improve the appearance of facial scars, lift sagging skin, and correct facial symmetry. Each product targets a specific concern when injected into different areas and depths. Juvéderm fillers have a smooth, gel-like consistency, delivering immediate results with a subtle, natural finish.
Juvéderm Voluma XC
Most often used to correct volume loss, lift the cheeks, and add volume to augment the chin.
Juvéderm Volbella XC
Ideal for smoothing fine, shallow lines, adding volume to the lips, smoothing out perioral lines (lip lines), and smoothing the delicate under-eye skin. 
Juvéderm Vollure XC
Typically used to treat moderate to severe wrinkles and folds, including the nasolabial folds (smile lines).
Juvéderm Ultra
Perfect for moderate marionette lines (laugh lines) and provides dramatic lip plumping results.
Juvéderm Ultra Plus XC
Dramatic results with more severe facial lines, deeper creases, and more pronounced wrinkles.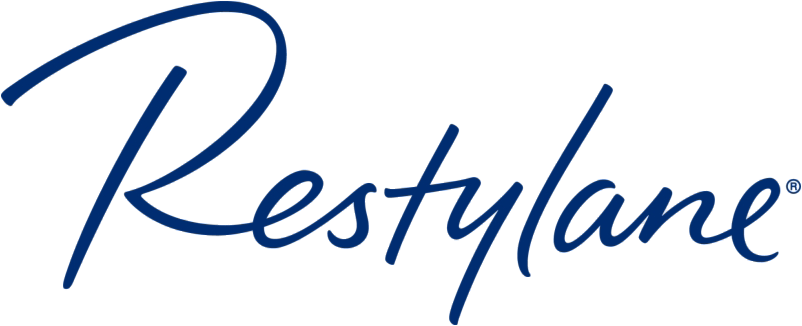 The Restylane Family of Fillers
Restylane fillers replenish lost hyaluronic acid, which helps restore lost volume and smooth away wrinkles. Our collection of Restylane injectable fillers by Galderma boosts collagen production, corrects moderate to severe facial wrinkles, lines, and folds, and corrects age-related volume loss. Restylane fillers combat the signs of facial aging, revealing a younger-looking you!
Restylane
Adds volume to plump thin lips and corrects moderate to severe facial folds and wrinkles, especially the nasolabial folds.
Restylane Silk
Plumps thin lips and smooths away lines and wrinkles around the lips.
Restylane Lyft
Treats mild to severe facial wrinkles and adds natural-looking volume to the cheeks and the back of the hands.
Restylane Refyne
Helps soften nasolabial folds and marionette lines, delivering incredibly natural results.
Restylane Defyne
Targets deep laugh lines and enhances the chin's projection, delivering a more youthful, natural appearance.